Brand Concept

A gentle, caring hug – the natural way to hold a newborn.
The bond between mother and baby begins with a hug – dacco in Japanese.Thank you for being born!
Such warm thoughts are gently communicated to a newborn through caring dacco hugs. A mother's love is reassured by the healthy crying of her baby.
The dacco brand presents products for mothers and babies that transform the invisible bond of loving kindness and warmth into essential products.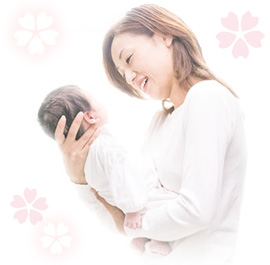 dacco Quality

The first brand to welcome a baby. The first brand to comfort a new mother. dacco comforts both mother and baby in their new life together. The dacco brand offers maternity and baby goods with the superb quality expected from products made in Japan.

The name dacco expresses how our unique products communicate sweet dreams and affection between mother and baby.
Dream
Affection
CommuniCation
Only One
The symbol of dacco is cherry blossom and its language of flowers signifies the beauty of the heart, good education and vital force. Always loved by Japanese people, the cherry blossom now represents the pride of Japan's leading brand in baby and maternity goods.


As the products for the birth of lives "dacco" ensures your baby's safety with products created from only the best materials, applying the highest level of quality assurance.

With years of knowledge and know-how gained from mothers, midwives and maternity nurses, we have learned which materials and functions provide the gentlest care and which conveniences new mothers need most.

Our product lineup supports various maternity services, meeting all the needs of both mother and baby and enhancing customer satisfaction.

We want you to be as comfortable as possible while sharing this special time with your baby. dacco products are made expressly with this in mind.

dacco features simple universal designs which make our products easy-to-use and fashion -conscious for every new mother.
The dacco Promise

dacco continues to evolve based on the feedback from users. We promise to keep an open mind and welcome your voices, as they aid in bringing a smile to the faces of mothers and babies.

Our products reflect the feedback from midwives and maternity nurses, the very supporters of new mothers and babies. We go straight to the source, gathering information to ensure convenient and easily distinguishable designs for the busy working conditions of these professionals.

The dacco motto is safe and reliable for mothers and everyone involved. Ideas and concerns received from mothers are integrated throughout our development process. For example, every one of our high quality products is clearly labeled.

dacco was created by women who bring experience and maternal sense to the development of our maternity products. This enables us to reflect the voice of women in the materials we choose, the functions we integrate and the designs we create.